Baraha Editor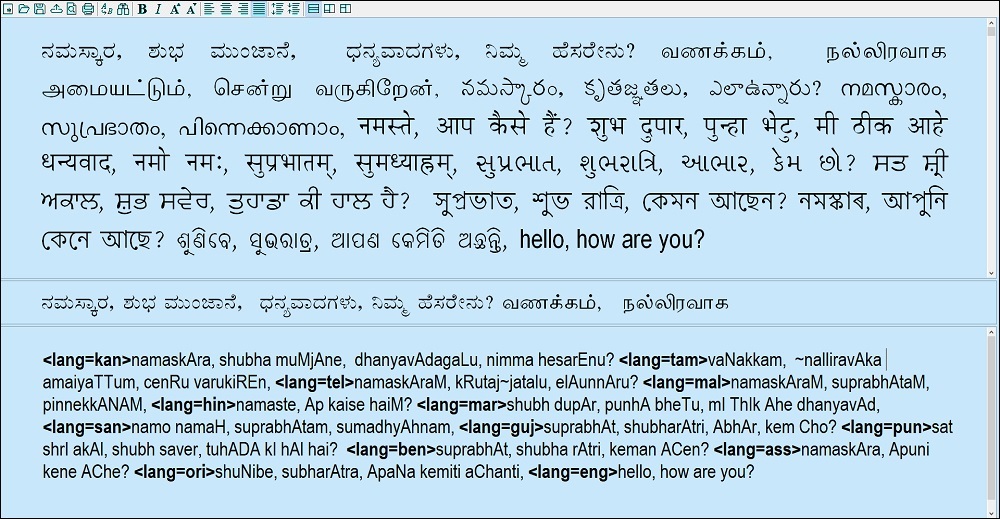 Baraha editor
Baraha is a text editor for Indian languages. Baraha editor uses Phonetic keyboard, which can be useful for a beginner User. Baraha editor has basic word-processor features such as page layout, print, find-replace, multi-columns, fonts. Although it is ANSI based, Baraha can copy/export document to various file formats such as TXT, RTF, HTML in Unicode. Baraha editor can also be used for learning Indian languages, braille transcription, vedic scriptures, and musical notes. Baraha is a standalone editor and doesn't require any other software such as MS Word.
User interface:
Input Window is where User types text. Output Window is where User sees converted text. Preview Window window shows currently edited line and highlights the current word in real time. Help Window shows various help topics. User may choose different arrangement of the windows by choosing the
layout buttons on the standard toolbar.
Editing text:
Baraha editor uses Phonetic keyboard. Please open Example files listed in "Start->All Programs->Baraha Software" program group (as shown in below pictures) to understand the usage of phonetic keyboard for all Indian languages.
Please see Switches topic for Selective text formatting.
During editing, text typed in the Input Window is auto converted and displayed in the Output Window. User may also press Convert button
on the standard toolbar at any time, (hot key: Ctrl + T) to convert text. Text is synchronized between Input Window and Output Window while browsing, which helps User to edit required paragraph quickly.
User may double click on a word in the Output Window to select the corresponding word in the Input Window.
Baraha uses Google Translate service for translating between Indian languages and English. Google Translate is currently available for Kannada, Hindi, Tamil, Telugu, Gujarati and Bengali languages only. Since this online service is still under development, the results may not be 100% accurate. Translation is currently not available for Assamese, Malayalam, Oriya and Sanskrit languages.
Right click on a word in the Output Window and select Translate menu to translate. To perform a general web search, select Search menu.
Notes:
User may click on the news icon
to access news from baraha.com.
Help topics: